Welcome to the Chair of International Business
Ulysses CALL FOR APPLICATION
Title: Ulysses European Digital Student Competition on Family Business
Time: First round: April 11-25, 2023 – Second round: May 2-16, 2023
Format: Self-paced, Online competition
Group size: 4 students per team (registration possible individually or in pairs)
Methodology: student teams receive a short description of a family firm business case. They have 2 weeks to come up with a solution and submit it in a written template and in a short video format.
Language: English
Prizes: 1st place: 3,000 EUR; 2nd place: 1,500 EUR; 3rd place: 500 EUR
Registration Deadline: March 21, 2023
Link for website to registration: https://www.ulysses-contest.eu/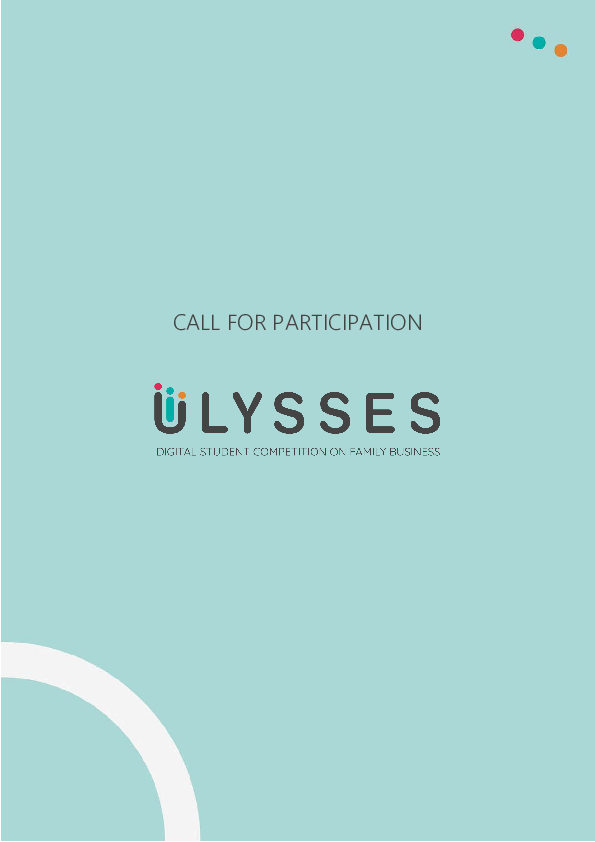 Family Firm Internationalization in Disruptive Times: Charting Paths to Success
On May 17 the Chair of International Business of @Universität Wien has organized a day-event entitled "Family Firm Internationalization in Disruptive Times: Charting Paths to Success".
The event took place at the Sky Lounge of the Faculty of Business, Economics and Statistics with the participation of eminent entrepreneurs, scholars and lawyers who provided different strategic, organizational and legal perspectives related to the topic of family business internationalization. The event was introduced by the Head of the Department of Marketing and International Business, Professor Adamantios Diamantopoulos, and the Chair of International Business, Professor Emmanuella Plakoyiannaki. The two panels were moderated by Dr. Francesco Debellis, Post-Doc Researcher of the Chair of International Business.
The event was enthusiastically attended by many students of the Faculty. It was also an opportunity to present the Erasmus+ Ulysses Contest that the Chair of International Business is carrying out together with other European institutions in spring 2023.
We thank the Faculty for its support and the participants for their passion and valuable contributions to the event!
GREAT NEWS - THE 2021 JIBS DECADE AWARD GOES TO THE CHAIR OF INTERNATIONAL BUSINESS, PROF. EMMANUELLA PLAKOYIANNAKI
The Selection Committee for the JIBS Decade Award is pleased to announce that the 2011 JIBS article "Theorising from case studies: Towards a pluralist future for international business research" by Catherine Welch, Rebecca Piekkari, Emmanuella Plakoyiannaki and Eriikka Paavilainen-Mäntymäki has been selected as the winner of the 2021 JIBS Decade Award.
The award, sponsored by Palgrave Macmillan, is designed to recognize the most influential paper published in the Journal of International Business Studies ten years prior and is presented at the annual AIB conference. In order to be considered for the JIBS Decade Award, an article must be one of the five most cited articles published in JIBS for the year being considered. This year's Selection Committee members were JIBS Area Editor and AIB VP Administration Becky Reuber (Chair, University of Toronto, Canada), the current AIB Program Chair Gary Knight (Willamette University, USA), and AIB VP Administration Dana Minbaeva (Copenhagen Business School, Denmark). JIBS Editor-in-Chief Alain Verbeke was an ex offcio, non-voting committee member. See detailed information here.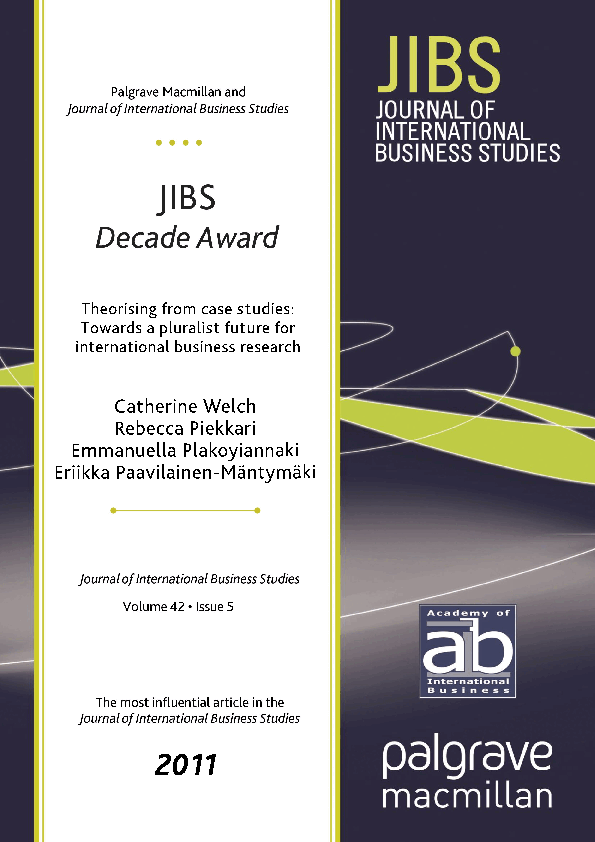 Emmanuella Plakoyiannaki receives Best Senior Editor Award by MOR
The journal Management and Organization Review (MOR) (SSCI Impact factor: 1,655) is a peer-reviewed journal that is published quarterly by the Cambridge University Press on behalf of the International Association for Chinese Management Research (IACMR). It is a far reaching multidisciplinary social science journal that publishes papers that test theory, develop theories, explore interesting phenomena or research questions in the context of transforming economies. MOR publishes papers from diverse social science disciplines.

Since 2015, MOR has been recognizing Senior Editors for their exceptional and noteworthy performance in helping authors realize the 'jewel' in their papers with the Best Senior Award.

Emmanuella Plakoyiannaki, Professor of International Business, is one of the award winners in 2020-2021. She will receive her official certificate at the IACMR Conference in June 2021.
Erasmus+ Funding for the Chair of International Business
Professor Emmanuella Plakoyiannaki and Dr. Francesco Debellis have received confirmation of funding for the project "Ulysses Contest - Digital Student Competition on Family Business" submitted under the Call Erasmus+ 2020 Round 1 KA2 - Cooperation for innovation and the exchange of good practices.
The project involves collaboration of four university institutions - University of Szeged (lead partner, Hungary), University of Vienna (Austria), Management Center Innsbruck (Austria) and Free University of Bozen-Bolzano (Italy) - and two other partners - Univations Gmbh (Germany) and Fundus Agentur (Austria). We will participate in the realization of case studies based on family businesses with a particular focus on the topic of internationalization. The competition will take place on the Master's level between students of the different universities who will be invited to work with real case studies through the use of a digital platform.
This Erasmus+ project allows our Faculty and Department of Marketing and International Business to strengthen thies with local family businesses and to collaborate with leading Austrian and European partners.